H
ello and WELCOME! I am Nicole Brady, the happy owner and operator of Muddy Mabel Mobile Grooming Salon. For as long as I can remember I have had a true passion and love for animals. When I was a little girl, I was the one you might see joyfully walking and washing all of the neighborhood dogs! I am a firm believer in doing what you love in life, especially when it comes to your job. When I was in high school I decided to do just that and work with animals, which lead me to PetSmart's Grooming Academy, which allowed me to obtain my Grooming Certificate. I quickly worked my way up to becoming PetSmart's grooming manager in Temecula, California. Over the years I have accumulated 8 years' of grooming experience.
As time passed, I met the love of my life, which happened to be, and still is, actively serving in the United States Air Force. Fast- forward to today and you'll see, my husband, Nathan, and I have two beautiful little boys (Kingston & Maddox), two doggies (Hunter & Mabel), two guinea pigs (Peanut Butter Cookie & Oreo), and a bearded dragon named Toothless who we adore. I absolutely LOVE my little family! The next chapter of my life consisted of raising my boys, being a wife, and working hard on achieving my bachelor's degree in Business Management. I am an entrepreneur at heart. This is why I decided to start my mobile grooming salon. I am extremely excited to start this new chapter in my life. I also believe it is important to mention that I am a very hard worker who believes in integrity, honesty, and kindness. I take a tremendous pride in my work and want all my customers to feel happy with my finished product. This journey truly is a dream come true!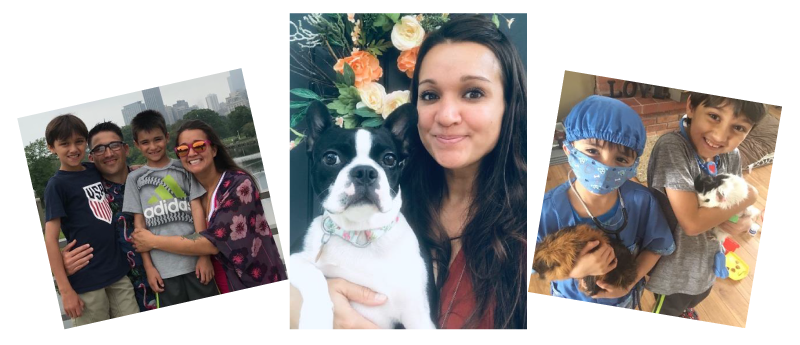 My mission is very simple. I want to make pet grooming as easy and stress free as possible for everyone. I am currently building a clientele that falls into the categories below.
Mabel's Key on File Service– This service allows pet parents to be at work, or out and about, while I am grooming their pet. I believe this gives the gift of time, which we all need!
Maintenance Grooming Schedule– This is a service where all my clients select a 2, 4, 6, or 8 week rotation schedule that is pre booked 2+  months in advance. I believe that the maintenance grooming schedule will help develop and create a positive relationship between you, me, and your best friend as well as keeping your pet happy, clean and mud free!